Thank You Maskman - Lenny Bruce
Lenny Bruce [
image found here
]
Lenny Bruce has been gone a long time. The below sick and twisted cartoon, gets even more sick and twisted at the end. Only watch if you have a thick skin and aren't easily offended. You got to love Lenny Bruce ...

Lenny Bruce would have been on the front lines, if he were alive today, fighting the NDAA and the internet censorship efforts such as SOPA and PIPA.

I don't plan to get rich, but I plan on making some over the top independent films and documentary. Given the times, I hope to live long enough to do so. I don't do drugs, and am not suicidal. So, if I die under strange circumstance or even early of "natural causes", or disappear, it was not my doing.

stevengerickson At yahoo Dot Com

My mugshot and story:
http://thegetjusticecoalition.blogspot.com/2011/02/letter-text-to-us-vermont-senators.html
Lenny Bruce on Wikipedia
-
The below cut and pasted [
from here]
Lenny Bruce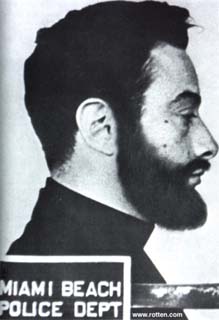 AKA Leonard Alfred Schneider
Born: 13-Oct-1925
Birthplace: Mineola, NY
Died: 3-Aug-1966
Location of death: Hollywood, CA
Cause of death: Accident - Overdose
Remains: Buried, Eden Memorial Park, Mission Hills, CA

Gender: Male
Religion: Jewish
Race or Ethnicity: White
Sexual orientation: Straight
Occupation: Comic
Nationality: United States
Executive summary: Multiply obscene comic
Military service: US Navy
In 1966, 40-year-old Lenny Bruce was found naked and dead of a morphine overdose on his toilet in Hollywood Hills. By this time he had been blacklisted by nearly every comedy club in America. His profanity-laced act offered fearless monologues and vulgar word-pictures which tickled the edges of the First Amendment, got him arrested numerous times, and rendered him nearly unbookable. Clubs were threatened with stiff fines or the revocation of their licenses if they chose to feature him as a headliner. He was also a jailtime regular for drug-related offenses, heroin and morphine chief among them. He provoked the wrath of the Catholic Church, the police, and the political structures which protected them both.
At the Troubador Theater in Hollywood, he was arrested for using the phrase "dwarf motherfucker". He was arrested at the Jazz Workshop in San Francisco on October 4, 1961 for violating the California Obscenity Code after uttering the word cocksucker. His trial, which forced him into bankruptcy, was considered a landmark in the fight to preserve the freedoms set forth in the First Amendment. Bruce alleged a conspiracy between the state courts of New York and California to violate his rights. He was acquitted, but by this time no comedy clubs were willing to give him a chance.
Offstage he behaved indulgently, without morals, stopping at nothing to pursue his whims and impulses. He consumed drugs in in epic proportions; he staged spontaneous orgies, and he enjoyed acts of revenge: he set up his wife for a dope bust with the same cops who had nailed him several times before. Considered by many to be a crusader and a martyr, a moralist and a preacher, a saint and a sinner, Bruce paved the way for comics like George Carlin, Richard Pryor, and Bill Hicks, all of whom consider Lenny a groundbreaking visionary.
Father: Myron Bruce (shoe salesman)
Mother: Sally Marr ("Sadie Schneider", dancer)
Wife: Jacqueline Fontaine (actress, div.)
Wife: Honey Harlowe Bruce Friedman (m. 1951, div. 1959, d. 12-Sep-2005, one daughter)
Daughter: Kitty Bruce (actor-singer, now a nurse, b. 7-Nov-1955)

Dishonorable Discharge
unknown detox facility State Rehabilitation Center, Chico, CA Jun-1963
Obscenity San Francisco, CA 4-Oct-1961
Obscenity Los Angeles, CA Oct-1962
Obscenity Chicago, IL Dec-1962
Obscenity Greenwich Village, NY 1-Apr-1964
Fraud Apr-1951
Drug Possession: Marijuana
Drug Possession
Impersonating a Priest Miami, FL 23-Apr-1951
Bankruptcy
Autopsy
Pardoned (posthumous, for obscenity) 23-Dec-2003
Sgt. Pepper Lonely Heart
Jewish Ancestry
Risk Factors: Hepatitis, Heroin, Marijuana, Amphetamines

FILMOGRAPHY AS ACTOR
Dynamite Chicken (20-Jan-1971) · Himself

Rotten Library Page:
Lenny Bruce
-
Was Jim Morrison's Death caused by Connecticut Police?
Text with video:
Jim Morrison of The Doors was maced backstage in New Haven, Connecticut. The police officer who maced Morrison did not realize he was soon to go on stage, trying to kick him out of the backstage area, macing Morrison. Morrison complained about being maced on stage. Connecticut took that as a reason to beat up Morrison and arrest him. Connecticut
police blacklist those who are critical of police
. Jim Morrison's luck ran out with police nationally. Were police in the State of Connecticut indirectly responsible for Morrison's early death? Are policing and rigged courts in the US responsible for early deaths, a failed economy, and the downfall of America?
This video uploader's continued thoughts on US policing and Connecticut [
found here
]